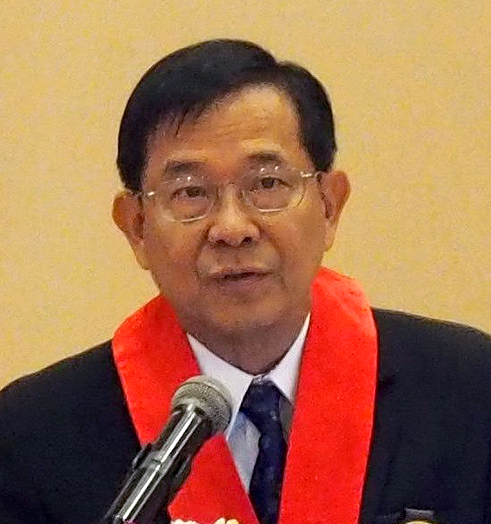 Assoc. Prof. Dr. Prasert Sarnvivad
President of CMAAO (2016-2017)
Professor Sir Michael Marmot, the President of the World Medical Association and the recipient of the Prince Mahidol Awards, Professor Dr. Rai Mra, Immediate Past President of the CMAAO, Dr. Ketan Desai, President Elect of the World Medical Association, Dr. Otmar Kloiber, Secretary general of the World Medical Association, Dr. Dong Chun Shin, Chair of CMAAO Council, Dr. Mari Michinaga, Secretary General of CMAAO, Presidents and delegates of CMAAO member countries, Participants, Ladies and Gentlemen,
Good morning to all of you.
It is really a great event of CMAAO to have all three Presidents of the WMA, the Past, the Present and the Future and the Secretary General with us at the same time at this meeting. Thanks for your presence.
This is one of my exciting moments, I experienced, to have this opportunity standing in front of you on this stage wearing this medal and carrying heavy tasks and responsibility as a President of the Confederation of the Medical Associations in Asia and Oceania or CMAAO in front of our friends from sixteen out of eighteen member countries extending from North to South of the Pacific west coast. However, with the long history of 58 years of CMAAO, since 1958, our organization has been tremendously progressive with more and more powerful in the global stage. Thanks and respectful to our former Presidents and executives who have done and contributed so much to CMAAO. It is our similar cultures, understanding and friendship that bring us together and keep us in a closed tie. Even though we may have some differences in political and economic status but our long timed friendship gave us the opportunity to meet, sharing experiences and discuss to find our way to solve the problems.
I, as the 35th President of CMAAO, avail myself to follow the good deeds of our predecessors and will maintain our closed tie to make the region as one in health collaboration. Collaboration in knowledge and experience sharing, problem solving resolution, crisis management and more can be managed with our solidarity and unity.
"Social Determinants of Health" which will be the topic given by Prof. Sir. Michael Marmot at the Taro Takemi Oration tomorrow will be the core principle for the public health participation to meet the Sustainable Development Goal. The scientific theme of "Health Care in Danger" motivated by the last meeting in Yangon, Myanmar, is also one of the problems around the world that we should take a serious continuous consideration and render safety mechanism to protect our Medical humanitarian rescue teams at the conflicts and war zone including the hospitals and health personal resources. For these, each Medical Association should take the leadership to connect with other relevant agencies.
I, thank you all and looking forward to our continuous collaboration and unity to make our organization, CMAAO, move forward as our objectives. Any suggestion or recommendation you may have to improve our CMAAO development are welcomed and will be grateful.
Thank you and have a pleasant stay in this land of smile, called THAILAND.
* This inaugural address was made at the 31st CMAAO General Assembly in Kanjanaburi Province, Thailand, on September 14, 2016.