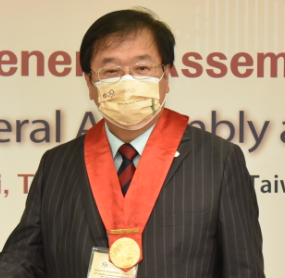 Prof. Dr. Tai-Yuan CHIU
The 38th President of CMAAO
(2021-2022)
Your Excellency President Tsai Ing-wen,
Dr. David Barbe, President of WMA,
Dr. Frank Ulrich Montgomery, Chairperson of Council of WMA,
Dr. Otmar Kloiber, Secretary General of WMA,
Dr. Yeh Woei Chong, Chairperson of Council of CMAAO,
Dr. Sho Hashimoto, Secretary General of CMAAO,
Colleagues of CMAAO,
Distinguished guests, Ladies and gentlemen,
It is my great pleasure to be here representing CMAAO as the 38th President at the 35th CMAAO annual meeting. I am truly humbled and would like to express my deepest gratitude to the member organizations of CMAAO.
Since the start of last year, the world has been under the devastating threats of COVID-19 and variants. During this period, Taiwan Medical Association (TMA) has convened more than 30 emergency response meetings on a regular basis. Almost every week we meet and brainstorm for ways to consolidate the strength of the organizations of medical and healthcare professionals in Taiwan. We fully support the government under President Tsai Ing-wen's leadership in implementing various pandemic prevention programs.
Taiwan, under the wise and courageous leadership of President Tsai, has employed effective measures to contain the spread of COVID-19 while maintaining economic growth. This achievement has been duly recognized by the rest of the world.
For more than a year, with dedication and fearlessness, Taiwan's medical professionals are fighting against the coronavirus to protect the health of Taiwan's people. Our greatest strength comes from our beloved President Tsai who gives ardent and unconditional support for us in the health sector. Here, on behalf of the medical professionals I would like to acknowledge President Tsai's great support. Thank You, Your Excellency!
President Tsai obliged us with her presence and guidance last November at the Annual National Physician's Day Celebration hosted by TMA. The medical association pledged to the President that we would continue to strengthen the health care system, and collectively make Taiwan a great nation for people's health.
In terms of international relations, TMA continues to share with other countries our experience in combating the pandemic. Through knowledge exchange, we are able to consolidate our strategies over the virus, and win a great deal of friendship around the world.
During the time of COVID-19, TMA has made every effort to maintain the healthcare capacity in Taiwan and protect our population. We brought together all healthcare facilities to bolster COVID prevention policies and guard against COVID-19 infections in the front line.
After the 2003 SARS pandemic, Taiwan had reformed our health system and medical education and built a solid foundation for the prevention of future epidemic. In this process, TMA developed the tiered community network to both deliver more effective healthcare and prevent infections spreading on the public health basis. This model has also been accepted by the international society. We look forward to advanced deployment of this system as an integral part of the overall anti-pandemic deployment.
For maintaining the healthcare capacity and relieving physicians' risk and pressure in the hospitals, TMA summoned tens of thousands of primary care physicians nationwide to undertake 4 missions including:
Community screening;
Providing mental health services;
Activating Taiwan's robust community healthcare groups to provide essential services and share the care load from hospitals preoccupied with treating COVID-19 patients; and finally,
Comprehensive vaccination in hospitals, clinics, vaccination stations, nursing homes, and disability homes, with a target of 60% coverage by October.
I believe that under the leadership of President Tsai, Taiwan will be able to control the spread of infection and resume our normal daily life and economic activities.
To the best of our ability, TMA will share our rich experience to work with national medical associations in the Asia and Oceania region in the fight against COVID-19. In my capacity as President of CMAAO, our shared interests will be enhanced towards a collaborative and prosperous future.