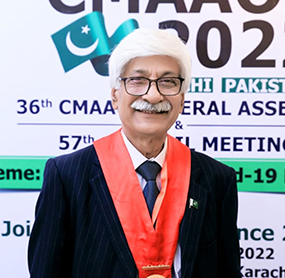 Dr. Qazi Muhammad WASIQ
The 39th CMAAO President
(2022-2023)
Honorable President, Council Chair, Secretary General, Treasurer, Council members of CMAAO and Representatives of National Medical Associations of CMAAO member countries.
Good afternoon.
It is a great privilege and honor for me to speak as 39th President CMAAO, on the occasion of CMAAO 36th General Assembly & 57th Council meeting, with the theme "Health care in COVID-19 Pandemic", as approved in the last meeting held at Taipei, Taiwan in September 2021.
The situation of Covid-19 pandemic seems much better than preceding years with the effective preventive measure, mass scale vaccination program and mutated Omicron strain, which spreads rapidly with milder symptoms and less fatalities. World researchers, scientists and clinicians responded well to curtail pandemic by adopting proactive approach to rapidly emergent changing clinical picture of this novel disease. We need to admit the fact that Covid-19 is going to stay and we should accept it as "New Normal".
Pakistan adopted a fairly successful policy to combat Covid-19 pandemic, taking all the steps to curtail spread and reduce number of cases, hospital burden and deaths. Free Vaccination program across the country is still on. Recently children vaccination from 5-12 has been launched.
As you are aware we are faced with worst situation of floods. WHO declared 'Climate Change' triggered this calamity in Pakistan. 33 million people are affected with 3.4 million children threatened of life due to starvation and diseases like Malaria, Dengue and abdominal illnesses. (Water & Vector borne diseases). Pregnant women expected to deliver in next few weeks are seriously under threats by floods. Those delivered new born babies are unable to breast feed their babies because of nutritional deficiencies.
Today we are in a hybrid meeting, a large number of respected guests from overseas and up country have travelled to be here, personally I am thankful to them, we are grateful to all those present on-line for their commitment and guidance. Even if we are physically apart, we are still together as a community, connected by a shared passion for phasing out preventable diseases worldwide and for the best outcomes for our patients. I am sure there will be many new and exciting collaborations emerging from this meeting when we reconnect.
I feel pleasure to express sincere gratitude to Prof. Tai-Yuan CHIU, president CMAAO 21-22 for extending leadership guidance to CMAAO member countries, the whole cabinet needs to be applauded for their excellent work and hope to continue with same zeal and enthusiasm.
With a very heavy heart we want to keep memories of our great warrior Dr K K Agarwal, former President of CMAAO 2019-2021, who lost his life fighting Covid-19 pandemic. He started a weekly CMAAO Zoom meeting platform for doctors to share their experience and pandemic situation. We must acknowledge and appreciate the efforts and commitment of Saurabh Agarwal who is keeping the legacy of Dr Agarwal by arranging Zoom meetings regularly without fail.
Thank you Dr Chong, from Singapore, the council chair for taking out time to be present here.
My special gratitude to our Malaysian, South African and Brazilian friends and colleagues present here today.
Lastly, I would like to take this opportunity to thank Dr Qaisar Sajjad Secretary General PMA and PMA team, organizing committee for making CMAAO General Assembly possible, a memorable and inspiring experience. I wish you all great time and a Comfortable stay in Karachi, Pakistan.
God bless you all
To the best of our ability, TMA will share our rich experience to work with national medical associations in the Asia and Oceania region in the fight against COVID-19. In my capacity as President of CMAAO, our shared interests will be enhanced towards a collaborative and prosperous future.